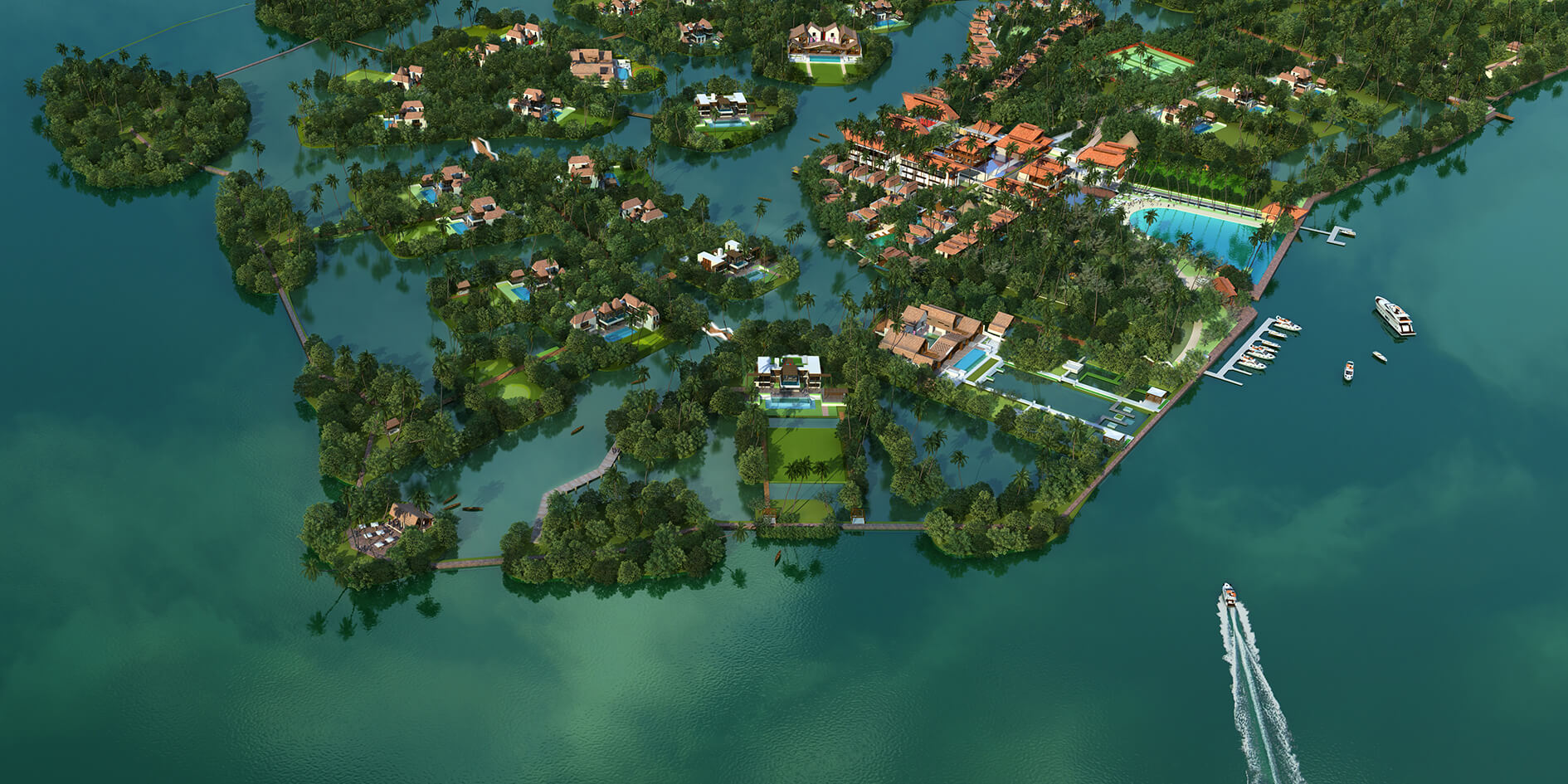 Island Resort Masterplan
'Islands within the island' inspired the layout of the island resort community. The design created an unparalleled experience for residents and guests while also increasing bio-habitat.
Ari Daman co-lead a team of consultants on the master planning for a high-end resort community on a 175-acre island in Goa, India. Kiran Mathema, MAP's other co-founder, co-lead the master planning effort and designed all the buildings.
The densely forested island is located in an estuary with a rich marine habitat. It also has views of calm river water and rolling hills. The design utilized these unique offerings to create an unparalleled experience for residents and guests.
Since the project site consisted mostly of low-lying areas, the buildable areas had to be shaped by landfills. To minimize the import of fill materials, the concept of digging and heaping was used to create higher ground appropriate for the construction of roads, buildings, gardens and ancillary functions. This approach created lagoons and islands, which added more real estate value to the internal lots. The design is based on a "islands within the island" concept allowing for a phase-wise development responding to vicissitudes of the market, sales strategies, and buyers' preferences. The created lagoons serve as a key organizing element to physically integrate the overall island. The vegetation and bio-habitat were preserved and enhanced to function as a visual buffer and promote a sense of privacy and exclusivity.
While waterways are one of the elements that physically integrate the overall island, the existing vegetation and bio-habitat are preserved and enhanced to act as visual and noise buffers amongst neighbors, promoting a sense of privacy and exclusivity. Additionally, the dense sub-tropical vegetation, while framing picture -perfect views of external and internal water bodies, helps provide shade, thus making outdoor spaces more usable during the hot and humid months. The landscape of the island is inspired by the existing settlements of Goan islands. Roads and streets are designed as narrow and meandering to accentuate the feel of the island by slowing the journey. Trails, canoeing, boating, and other recreational opportunities are provided to residents for exploring the island's cultural and natural resources. Ecological zones were created to enhance the local flora and fauna.
Client
Confidential
Size
175 Acre
Role
Principal
Desgin Director
Landscape Design
Master Planning
Collaborator
Kiran Mathema (Architect), MAP www.mapdesign.co/
Project Timeline
2011 – 2012